Corint Media (for­mer­ly VG Media) is a Euro­pean com­pa­ny in the pri­vate media indus­try, a lim­it­ed lia­bil­i­ty cor­po­ra­tion licensed as a Col­lec­tive Man­age­ment Orga­ni­za­tion (CMO) under the Ger­man Col­lect­ing Soci­eties Act (Ver­w­er­tungs­ge­sellschaftenge­setz, VGG). Corint Media man­ages the rights of almost all Ger­man and sev­er­al international pri­vate tele­vi­sion and radio sta­tions as well as of numer­ous press pub­lish­ers.
Organ­i­sa­tion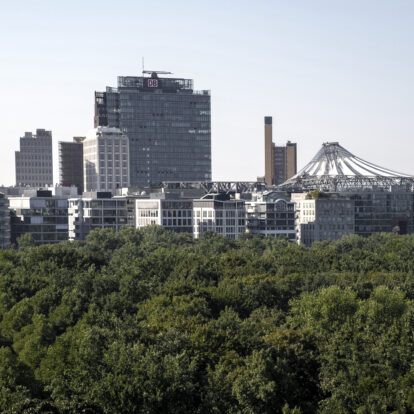 Busi­ness Objec­tive
Man­ag­ing and
enforc­ing rights
As a Col­lec­tive Man­age­ment Orga­ni­za­tion (CMO), Corint Media enforces the rights of broad­cast­ing com­pa­nies and press pub­lish­ers vis a vis to users, which are being turned into con­trac­tu­al part­ners as licensees or – in case of refusal to com­ply with the Law — are being sued in court. To this end, Corint Media estab­lish­es tar­iffs, nego­ti­ates over­all agree­ments with asso­ci­a­tions, draws up licens­ing agree­ments and, in the case of unau­tho­rised usage, pur­sues dam­ages and oth­er claims through all court´s instances. After deduc­tion of nec­es­sary admin­is­tra­tive costs incurred, the whole turnover gen­er­at­ed by Corint Media through rights enforce­ment and man­age­ment is passed on in full to righthold­ers divid­ed based on the val­ue of the rights grant­ed to Corint Media.
How it works
Assig­ment of rights to Corint Media
On the ground of Euro­pean and nation­al leg­is­la­tion it is the righthold­ers who decide the scope of Corint Media's rights enforce­ment.
Licens­ing to users/enforcement of rights by Corint Media
How­ev­er not inter­fer­ing with the rightholder's own syn­di­ca­tion busi­ness.
Enforce­ment of ade­quate com­pen­sa­tion from users
Corint Media claims par­tic­i­pa­tion and a per­cent­age of users´ total rev­enues.
Dis­tri­b­u­tion of licence fees and prof­its to righthold­ers
Exe­cut­ed in an ade­quate, and trans­par­ent and val­ue ori­en­tat­ed man­ner com­pli­ant with EU Law and the Col­lect­ing Soci­eties Act
The busi­ness mod­el of a Col­lec­tive Man­age­ment Organ­i­sa­tion (CMO)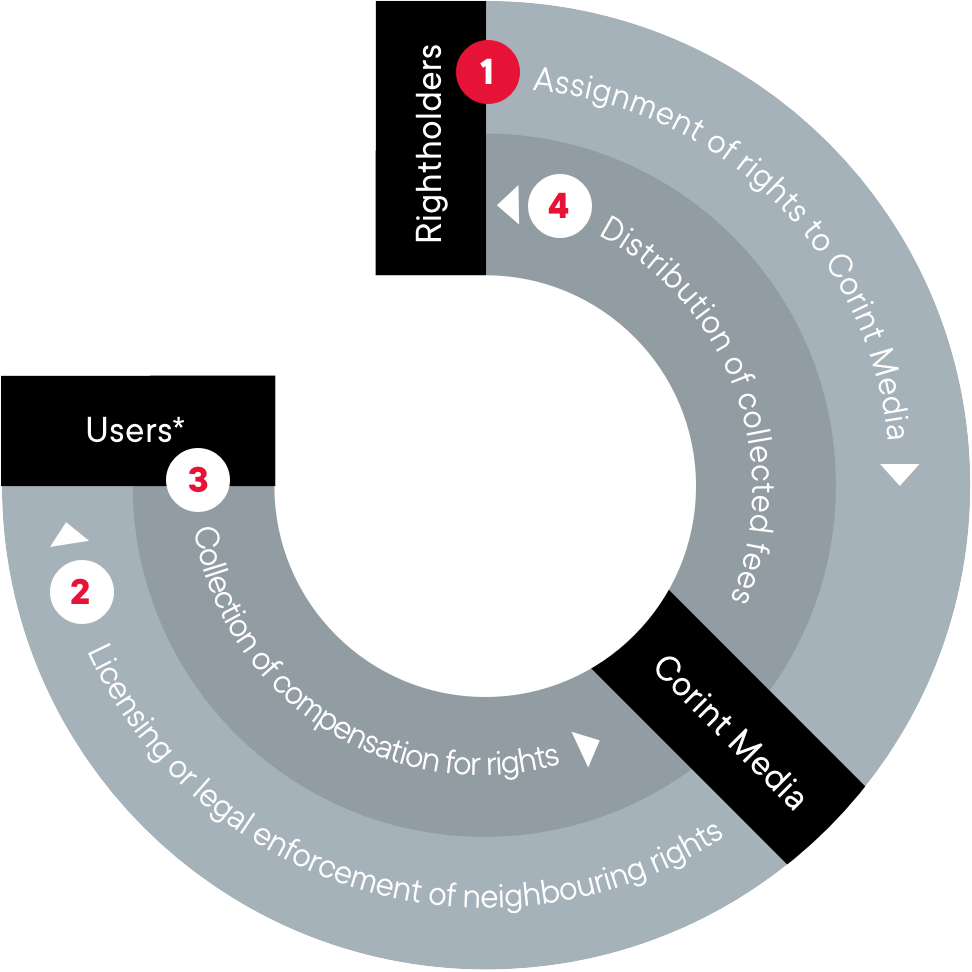 *SEARCH ENGINES, NEWS AGGREGRATORS ETC.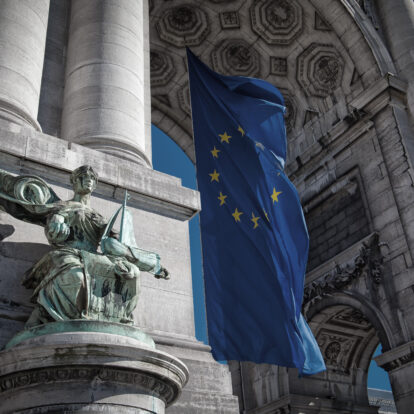 Copy­right International
Acknowl­edged by the EU Com­mis­sion since 2002
Intel­lec­tu­al prop­er­ty rights are uni­ver­sal and do not end at bor­ders. The author of a book is still the author whether it is pub­lished in Ger­many or the UK. Ancil­lary rights and copy­rights have always been international, not only since the open­ing up of vast oppor­tu­ni­ties that have been brought about by the digi­ti­sa­tion of intel­lec­tu­al prop­er­ty con­tent. Based on this uni­ver­sal under­stand­ing, Corint Media has been enforc­ing broad­cast­ing rights in Europe, as well as in non-Euro­pean mar­kets for 20 years, act­ing as a CMO acknowl­edged by the Euro­pean Com­mis­sion.